In 2016, I discovered my favourite YA anthology, A Tyranny of Petticoats, a historical fiction and fantasy anthology, which focused on telling the stories of a diverse array of heroines. When I heard that a follow-up project was in the works, I couldn't be more excited about that and had to get my hands on it as soon as possible. Lucky for all of you, The Radical Element is coming out today, and I'm sharing my review with you all to (maybe) convince you to read it. While I'm at it, I have to say that you do not need to read A Tyranny of Petticoats first, it's an amazing anthology, but the two of them are independent (and complementary) and different authors contributed to them.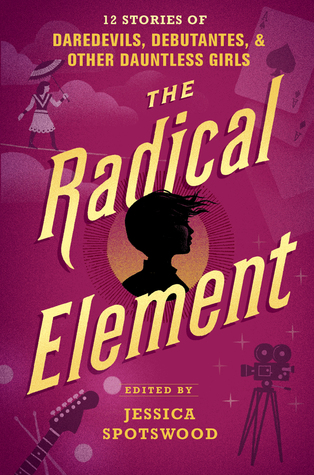 The Radical Element, an anthology edited by Jessica Spotswood
Authors included: Dahlia Adler, Erin Bowman, Dhonielle Clayton, Sarah Farizan, Mackenzi Lee, Stacey Lee, Anna-Marie McLemore, Meg Medina, Marieke Nijkamp, Megan Sheperd, Jessica Spotswood, Sarvena Tash
Published: March 13th 2018 by Candlewick Press
Genres: short stories, young adult, historical fiction
Number of pages: 320
Goodreads summary: In an anthology of revolution and resistance, a sisterhood of YA writers shines a light on a century and a half of heroines on the margins and in the intersections.
To respect yourself, to love yourself—should not have to be a radical decision. And yet it remains as challenging for an American girl to make today as it was in 1927 on the steps of the Supreme Court. It's a decision that must be faced whether you're balancing on the tightrope of neurodivergence, finding your way as a second-generation immigrant, or facing down American racism even while loving America. And it's the only decision when you've weighed society's expectations and found them wanting. In The Radical Element, twelve of the most talented writers working in young adult literature today tell the stories of the girls of all colors and creeds standing up for themselves and their beliefs—whether that means secretly learning Hebrew in early Savannah, using the family magic to pass as white in 1920s Hollywood, or singing in a feminist punk band in 1980s Boston. And they're asking you to join them.
Disclaimer: I received this book through Netgalley in exchange for an honest review.
Reviewing and rating anthologies is usually tricky, because you can't always love all of the short stories they are made of; yet, for The Radical Element, I can say that I enjoyed all of them and that the messages the anthology was trying to get through were executed well.The Radical Element is an empowering read that focuses on young women who didn't fit within the norms of society, who were marginalized and learnt to respect and step up for themselves. 
The short stories manage to make you learn historical details you might not have suspected, especially since the stories of those young women would be stories erased from the records of history. In a way, it puts the stress that history was made as much by women than by men, even though so many of them had to work in the shadows (for that, I'm considering Lady Firebrand, which was one of my favourite stories) and thanks to some of the authors' notes, you might even get recommendations for non-fiction history books on women. 
As I'm more interested in the 19th century than in the 20th century, I have to confess that I loved the short stories set from 1838 to 1927 more, because those are set in time periods that compel me, but that's personal preference and they all were pretty good. My personal favourites were Lady Firebrand by Megan Sheperd, Glamour by Anna-Marie McLemore and Better for all the world by Marieke Nijkamp. Some of them include fantasy elements, which I really loved, considering mixing history and fantasy is one of my favourite things. I discovered several new authors through this anthology and will make sure to check some of their novels out. 
Another thing I loved was that it didn't have a lot of romance, it was sometimes hinted, it was sometimes shown, but it wasn't the focus of the story, it was more about growing on your own. I would have liked to see more f/f romances though, it was hinted once in Step Right Upand there was a f/f romance between secondary characters in Take Me With U, but I wanted a bit more. 
Now, I have to say that if you read the stories one after the other without reading anything else on the side, the endings of most of them must feel a bit repetitive, but it goes alon
g with the main message of this anthology: it's about getting through obstacles that prevent you to be who you are and embracing your difference and that's such an important idea. I believe that this anthology should be read by as many young women as possible, to show them that they got this and that they can dare dreaming and fighting for what they want. 
The representation in this book is fantastic – or that's what I felt, but for that, it's important to check out what #ownvoices reviewers have to say – and quite a few of those short stories were #ownvoices. This anthology is an accurate representation of what it is to be American when you feel like you're not wanted, when you're different from what the norm wants you to be: it tells the stories of women of colour, disabled women, women from different religions. It is an amazing example of the diversity young adult literature has been getting and what it deserves. 
Overall, The Radical Element is one of the best YA anthologies I got to read, alongside A Tyranny of Petticoats which is its close second (it makes sense, considering A Tyranny of Petticoats was edited by Jessica Spotswood and focused on similar themes). It delivers such important messages and might have a lasting impact on young adults who will read it, as its heroines were relatable and might make you want to fight harder to defend what you believe in. 
Individual ratings of the stories: 
1838, Savannah, Georgia – Daughter of the Book by Dahlia Adler 4/5 stars 
1844, Nauvoo, Illinois – You're a Stranger Here by Mackenzi Lee 3/5 stars 
1858, Colorado River, New Mexico Territory – The Magician by Erin Bowman 3.5/5 stars 
1863, Charleston, South Caroline – Lady Firebrand by Megan Sheperd5/5 stars 
1905, Tulsa, Indian Territory – Step Right Up by Jessica Spotswood 4/5 stars 
1923, Los Angeles and the Central Valley, California – Glamour by Anna-Marie McLemore 5/5 stars 
1927, Washington, D.C. – Better for all the world by Marieke Nijkamp5/5 stars 
1943, Oak Bluffs, Massachusetts – When the moonlight isn't enough by Dhonielle Clayton 3/5 stars 
1952, Brooklyn, New York – The Belle of the Ball by Sarvena Tash3.5/5 stars 
1955, Oakland, California – Land of the Sweet, Home of the Brave by Stacey Lee 3/5 stars 
1972, Queens, New York – The Birth of Susi Go-Go by Meg Medina3.5/5 stars 
1984, Boston, Massachusetts – Take Me With U by Sarah Farizan 3.5/5 stars
Are you planning on picking up The Radical Element? 
Which anthologies are your favourites?